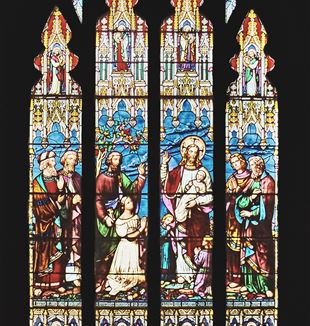 Being like a child in front of the Lord's passion
Almost 20 years ago, the tradition of the Way of the Cross with the Petite Ecole was started by a few mothers in Montreal. This year during a visit to their daughter, Garrick and Bernadette joined this gesture, they share the beauty they experienced.
For me, the Triduum is an event that I always look forward to. Especially the Way of the Cross that we do with our Twin Cities community through the streets of downtown St Paul ( Minnesota).

This year, we had a change of plans as Bunny and I decided to venture to Montreal to be with our daughter Claire's family. The Way of the Cross was beautiful, and I was even thankful for the grave workers' protest that we ran into on our way ( I imagined this was more like what the walk to Calvary was really like, rather than the silent streets of St Paul (Minnesota).

The next morning, Claire proposed going to the Way of the Cross for the Petite Ecole. Truthfully, I was not crazy about the idea, but I wanted to spend as much time as possible with our granddaughter Lucia. Since the Way of the Cross was all in French, I found myself most of the time just watching the kids. Looking at their faces, they had such attention to what was happening and the lessons the priest was giving at each station. Even when some of the lessons were quite graphic (Ellen was translating for us) in the description of the crucifixion, the kids did not bat an eye or show any sign of revulsion, they embraced the reality of it with attention and wonder.

Right after, I sent a text to our pastor, Fr Ze, and told him this is something we want to do with the children of the movement in the Twin Cities. While I want the children to have this experience, I want just as much for myself to be reminded of what it means to be like a child in front of the Passion of our Lord.