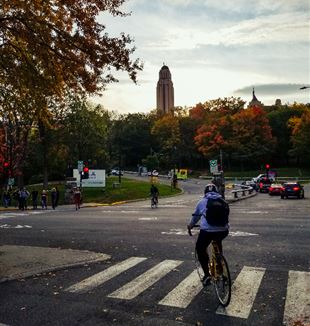 Online tutoring: a new form of Charitable work
For Michelle and Jean-François, participating in an online tutoring initiative of the CLU was a challenge after the many months of online learning. However, they decided to join and discovered the value of this moment through experience.
When I was first asked to give 2 hours a week to tutor a child on Zoom, my reaction was "Sounds lovely, but no thanks." As a university student, I was already very busy with my classes - which were all on Zoom – so the last thing I needed was to spend an extra 2 hours a week in front of my computer… or so I thought. My narrow perception of things was shaken when I heard that some of my friends in CLU were not only willing to do this but seemed really enthusiastic about it. How could they agree so easily to this? What did they see that I clearly didn't? And so, with these questions in mind, I followed - what else was there to do? – and ended up embarking on this journey that has been a constant stream of surprises.
The first surprise was meeting the deacon that was the mastermind behind this project of helping kids from his parish (most of them from immigrant families) with their homework, with learning French and with integrating our society. He sent us tutors two by two (like Jesus sent the disciples, he said), so that every child had two tutors and 4 hours of tutoring per week. I was amazed with this idea, that the goal was not to reach as many people as possible, but rather to give everything we could to one child, as if they were the only child that mattered.

At first, many things worried me. How do you tutor a 7-year-old on Zoom? What if the language barrier makes things too difficult? Can I really commit to this for three months? Was this really the best use of my time? These worries faded away the second I saw the little face on my screen. I got to meet Amanda, an intelligent, funny, curious little girl that lit up my gloomy days of distance-learning. I was so happy with her and was always looking forward to the moment I could be with her. After a month of this, we had an assembly with Lele, and the only question I could come up with was "Am I really learning how to do charitable work if it's so easy?" It truly was easy, and it felt like she was giving me so much more than I was giving her. Others were also enthusiastic about their experience; the time we were spending with these kids was so special, but what was truly amazing was that we were here because we had followed each other. We followed because something in us trusted this friendship, this place where we discover what our heart really needs and desires. At the end of the assembly, Lele left us with this question: Why does sharing myself give me such joy?

During the month of April, school got very busy and very difficult. I was spending every waking hour studying, but I still had these two precious hours a week where all that was asked of me was to love this child and where, despite being exhausted, I felt alive – I had a clear purpose. Ironically, she too apparently had tons of homework during those days and didn't have time for the story we usually read in the last few minutes of the hour (let's keep in mind she's seven). She would beg me to stay with her an extra 15 or 30 minutes to finish her homework, but what I soon realized was that she didn't actually need help with her homework; she just wanted me to be there with her while she finished it. She was saying "I need you" so clearly, so unashamed, and it completely threw me off. Part of me was screaming "Just leave, she'll survive, you have a ton of actual homework to do", but I simply couldn't and I didn't understand why.
In those days, I felt so needy myself and I was embarrassed to be so dependent on my friends, always afraid I was bothering them when I asked for help. Yet here was a little girl, teaching me in all her simplicity, that saying "I need you" is the most honest and beautiful way to live because the reality of things is that I am small and I can't go very far on my own.

Michelle, Montreal

It's the month of September and we're headed back to school. After spending more than a year of studying from home, I am finally back in my university classroom. Students and professors pass each other by in the hallways, discussing current events or the class topics.

This sense of community that we find on our college campuses had charmed me several years ago. It's a place of knowledge that brings us together in our shared desire to learn, to share and to question everything.
On this day, a year ago, these halls were empty because of the COVID-19 pandemic. I was celebrating graduation and the start of a new program alone in my room in front of my laptop. Distance learning had instilled in me a sense of loneliness, which I had never experienced before at school. We often spoke about this during School of Community: studying seemed at times absurd or meaningless when we were all isolated from each other.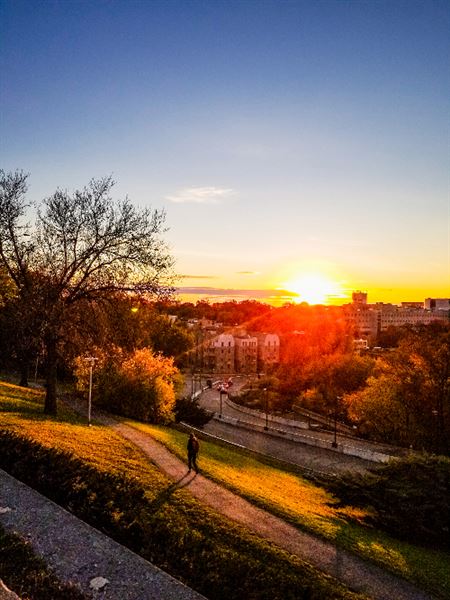 In February, Silvia, a friend from CLU, told us about a tutoring project set up by parishioners at her church. Families who recently immigrated to Québec needed people to help their children with their French homework. When this was proposed to the CLU, several students decided to take part, including me. I immediately seized the opportunity without really knowing why.

A few days later, via Zoom, I met a high school student who had arrived in Québec two years ago. She had already learned the basics of the French language. And so, twice a week, we met on Zoom for tutoring sessions. Through these sessions, I was rediscovering the beauty and intricacies of the French language, sharing aspects of Québec culture and learning more about the student's native country.
Beyond helping with homework, the parishioner in charge of the project hoped to build bridges between these students and Québec society and to create friendships with these students to counteract the isolation caused by the pandemic and measures put in place by our government. In the span of a few weeks, I realized that this project also changed me, and the way I studied.

The feeling of loneliness that had taken over my studies was constantly confronted by the fact that I was useful, that every week I was meeting the concrete needs of a student. It was much harder to look at my loneliness when at the end of each tutoring session, the student would say "thank you." That simple "thank you" still surprises me to this day as it really makes it clear to me that each week I share my time freely with this person. I choose to be present and share my life with this student, not only because she needs help with her homework, but also to remind myself that my life takes on its fullest meaning when I enter into relationship with those around me.
Daniel Bélanger, a Québécois singer-songwriter captures this feeling perfectly when he says: "Take me out of myself! I have eyes that refuse to see, hands that graze without touching." With this new school year, I hope that the feeling of loneliness in my studies will dissipate and that I will be able to reconnect with those around me. One thing is certain, my tutoring sessions will continue to help and accompany me on this journey.

Jean-François, Montreal