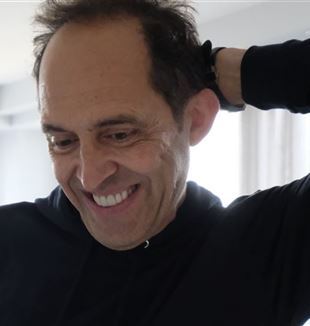 "MY ILLOGICAL CHOICES"
Paul had money, friends, fabulous vacations, but an emptiness in life that tormented him. In one of his darkest moments, he was reminded of one of his school teachers, and his adventure began… From the October issue of Tracce.
I am an entrepreneur in Toronto, where I have lived for many years. My work has led me to be analytical, pragmatic, to measure risk, to move strategically, being careful not to hurt myself. Yet, despite this way of being that has shaped me over the years, there came a time when I made a decision that was the most illogical and unmeasured decision I have ever made.

Like so many expatriates, I suddenly began to feel very homesick for my homeland, my friends, and family, and one way to overcome that longing was to throw myself into my work, learning to grit my teeth and keep going. The success that I quickly achieved, however, went to my head and as a result I made disastrous decisions that made me hit rock bottom and have to start again. I had money, friends, fabulous vacations, but the emptiness of that meaningless life continually tormented me.

One day, with tears in my eyes, I decided to get in my car and drive aimlessly. At one point, I was reminded of the face of a high school teacher to whom I had caused quite a bit of trouble during the worst years of the student movements in Italy. Back in my office, I looked up her number. There were more than ten people with her same last name in her town. At the umpteenth call, when I said, "I'm looking for Mrs. Ester," a kind voice asked, "Are you Paolo?" Shocked I replied, "Which Paolo are you talking about?" "The one who is in America. Every now and then I think of you, and I pray for you." Totally disarmed by those words, I began to tell her of my adventures during those years: I had gotten married and divorced, the list of crazy things I had done, and how much I missed everything. Without being shocked she asked me, "Did you look for the CL community?" She knew that I had met students from GS (Student Youth) while at school. I answered, "No, CL is an Italian thing...." She interrupted me, "No, no, they are also there. Look for them!" The phone call did not last more than ten minutes, but it was enough to shock me and that "look for them" became my top priority.

That was my first illogical choice. I looked for them and found them. I went to several meetings, but I came out more depressed than before. Meanwhile, I was diagnosed with multiple sclerosis and so sank back into the blackest darkness. I decided not to say anything to my parents in Italy, beside, I had learned to grit my teeth. However, I talked about it with my sister who is a doctor, and in addition to giving me health advice, she suggested that I pray to Saint Richard Pampuri from time to time. It did not seem like much to me so I said, "Whatever, I do not know that is, but I have nothing to lose."

It was the year of the World Youth Day in Canada. The secretariat of the movement in Montréal had communicated that I was in Toronto and that I spoke Italian, and so I could help the Italian young people with logistical issues. They called me and I did not answer; they kept calling me and I kept not answering. But in spite of my disappointment with the small group in Toronto, I decided to give it one last try and answered one of the calls. I talked for a while, then said to myself, "I am going to take a week's vacation to spend time with them." Another illogical decision. What does a mature man have to do with a group of young people he does not know? They were fantastic days. The priests who accompanied them would take turns coming back to my house at the end of the day for a plate of spaghetti, a shower, and a moment of relaxation. One evening I asked one of them, "Is it right for an unbalanced person like me to ask the saints for favors?" He spoke to me and finally opened his wallet, took out a holy card and said, "Here, pray to this saint when you have a moment." It was Saint Richard Pampuri.

At the end of that summer, John Zucchi (the head of the movement in Canada) invited me to spend four days in La Thuile. I asked him what it was all about, and without explaining much he said, "It is a group of friends, of leaders from all over the world." I replied, "A group of what?" "That is what it is called, but that does not matter, come." At the end of the first day, I went to John and said, "I am leaving." He said, "Wait a minute, I am going to slash your car tires and then I will be back." He was joking but I really wanted to leave because it was clear that it was not a reading club, it was not a circle of intellectuals: it was a totalizing thing. Everything was being asked of me there, and I was afraid. But I decided to stay. On the penultimate day, I asked an Italian girl, "Do you know where Trivolzio is?" (Where Saint Richard Pampuri is buried) "Why do you want to go there?" "Well ... I was told," She replied, "I will take you." More lightning struck. Why did this person, who did not know me, want to accompany me?

John, Mark, she and I went to this desolate place at three o'clock in the afternoon in the unbearable heat. I stood by the door for a few minutes, then went in and saw the others praying, and stayed there a while. When we came out no one was talking. At one point I said, "Look, we have come here for a specific request, and I do not know how this is going to turn out. But I am absolutely certain of one thing: I will no longer be alone from today, and whatever my condition, life will no longer betray me. I have everything I need. I do not care if I will be in a wheelchair, in a hospital bed, nothing can take this certainty away from me. For me, this miracle is a hundred times greater than my recovery."

From that August 28, 2002, I began the journey to get to the bottom of the origin of those "illogical" decisions. The essential had happened and now I had the rest of my life ahead of me to understand it and become more aware of it by following the circumstances in which Jesus made himself present to me with simplicity and humility.

Back in Toronto, I longed to communicate what I had encountered and slowly I was given a community of amazing people who took life seriously. These are people who are not satisfied by solving problems, finding the anaesthetic to cushion the blows; they are people with whom I can grow freely, judging everything to discover the question we carry inside; they are people who remind each other to never detach what we say from our experience. We recount what we experience to discover how Jesus embraces us within the circumstances, to become aware that He is our answer.

After my marriage was annulled, I remarried in 2007. During my honeymoon, a young girl who had been invited to a GS vacation by her cousin in Montréal phoned me and said, "You do not know me, but I wanted to ask you if you want to do GS with me." I am not a teacher, but since I did not really know what that meant, I said, "Okay." I accepted that invitation by supporting a relationship. We started with a small group that unexpectedly grew. Once, it was winter, on my way to meet them for School of community I asked myself, "What if you go there now and no one is there? What would you do?" The answer was clear: "Sit down and do School of Community because I go there to meet Jesus, I go where He calls me." Today those young people are mature people; some have families and children, others have taken the path of consecrated life, one is about to become a priest. These people have given themselves to me like this, with all their simplicity and freshness. Our Schools of Community are beautiful, free and growing because we are all attentive to what is emerging from life.

The times when things go wrong is when I have decided that Christianity can be spread by marketing strategies. Like when we bought hundreds of copies of The Risk of Education and we sent them to the principals of schools and institutes within a ninety kilometre radius, along with a letter in which I explained the importance of the book. The few who responded asked me not to contact them again.

Ideology, even Christian ideology, leads nowhere, and over time Jesus did not hesitate to point this out to me in more or less polite ways. The intelligence, the freshness, the affection, the operativeness of those that Jesus gives me, testify to how those invested by the amazement of a present Event become a sign and work in society for any person they meet. Thus, we started the public gesture of the Stations of the Cross in the city in 2006, at which there were seven of us. In 2019, there were four hundred of us.