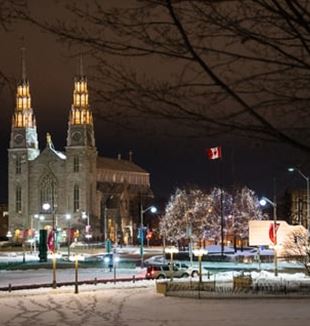 "The Joy of the Gospel in his heart, enabled him to do what he did"
The homily of Msgnr Marcel Damphousse, Archbishop of Ottawa at the Memorial Mass for the centenary of Fr. Giussani's birth.
It's nice to see that the crowd has quadrupled since the beginning of the Mass. As I mentioned, for those who are not here during my opening greeting, it's unfortunate we are in a crisis in our city now. It really makes travelling difficult.

Thanks for being here today and making time and effort for joining this Memorial Mass of Fr Luigi. When I was listening to this letter of St. Paul to St. Timothy in our second reading, we need to remember St. Paul is very near his execution and he knows that. As he writes to his friend, Timothy, who has been given responsibility to lead a Christian community, he reminds him of important realities in life. And I think when we are reminded of those things, it may help us in our own faith journey. He says "I have fought the good fight. I have finished the race. I have kept the faith. From now on, there is reserved for me the crown of righteousness, which the Lord, the righteous judge will give me on that day."

St. Paul is not afraid of dying because he knows exactly why he is living. He is living for that very moment when he will be able to meet his Redeemer face to face and receive his crown of righteousness. That is why he purposefully and intentionally throughout his life did everything possible to remain faithful to the gift given to him in the person of Jesus Christ. His Encounter with Christ on the road to Damascus was a turning point in his life. When he understood everything that Christ was and everything that Christ is in the midst of His Mystical body called the Church, St. Paul had a vey different appreciation of his own life, but also the appreciation for this very beginning of this new reality called Christianity – the Church in Jesus Christ. He gave everything for that Church so that the people of God may come to know Christ – the risen Christ – our Redeemer and Saviour, the one who restores us to fullness of Life. That is what St. Paul worked for throughout his whole missionary life. Making sure that as many people as possible could be part of the joy of the gospel.

I believe, from my reading on Fr Luigi – your founder of Communion and Liberation – that his heart was on fire for the very same reasons. It's the joy of the gospel he had in his heart that enabled him to do what he did, especially with the youth, so that all the people he met could really transform their own lives and really live out Christianity as Christ meant it to be; in such a way that his conversations would be bringing transformation for all of society. This is the ongoing work that you are accomplishing today as you continue to be part of this Movement, of this Fraternity of Communion and Liberation.
La première lecture aujourd'hui fait allusion à cette prophétie d'Isaïe que Jésus lui-même a repris dans la synagogue de Nazareth qui était au tout début de son ministère public. C'est comme si Jésus voulait annoncer du point de départ ce qui était pour lui l'essentiel de sa Mission. Ce qu'on va retrouver dans le texte d'Isaïe, on le retrouve dans les éléments clés de ce qu'est appelé à vivre la Fraternité de Communion et Libération. Reprenons ce texte du prophète. D'abord, il fait allusion au don de l'Esprit sur lui. « L'Esprit du Seigneur est sur moi par ce qu'il a m'a consacré par l'onction. » Toutes œuvres de Dieu ne peuvent s'accomplir sans l'aide de l'Esprit Saint. Vous êtes une œuvre d'Église en autant que vous vivez de ce même souffle d'Esprit comme votre fondateur. L'Esprit Saint nous inspire, nous guide, nous donne le courage. L'Esprit Saint nous fait comprendre le plan de Dieu. L'Esprit Saint qui est à l'œuvre en nous nous fait accomplir de choses belles et grandes pour la gloire de Dieu.

Dans mes lectures, j'ai compris qu'il y a trois éléments essentiels dans votre vie de communauté. On parle de la culture, on parle de la charité et on parle de la mission. Votre fondateur avait bien saisi ce que j'ai mentionné au niveau de la transformation d'une société. La transformation d'une société se fait à l'intérieur d'une culture. Et il l'a vu très clairement. C'est dans la vie de tous les jours que nous avons à porter le goût de l'évangile. Mais pour se faire il faut tout de même être transformé par l'évangile, vivre notre chrétienté et notre foi de façon pertinente dans la vie de tous les jours. Le Père Luigi y croyait sincèrement et c'est pourquoi il a mis en œuvre cette fraternité, pour éduquer les gens à comprendre que votre foi fait toute la différence lorsqu'elle est vécue dans les réalités de la vie. Mais il a rattaché à tout cela la place de la charité, comme il est souligné dans le texte d'Isaïe. Sa mission est une mission de transformation, mais une où elle sera habitée dans la charité envers ceux qui sont dans le besoin : les malades, les pauvres, les captifs, les prisonniers. Jésus a toujours eu ce souci pour le bien des autres. Votre Fraternité est un rappel constant de vivre cette charité auprès des autres qui sont dans le besoin. C'est un fondement essentiel du christianisme. Mais lorsqu'elle est vraiment bien vécue au sein d'une communauté comme la vôtre, c'est là que la communion prend tout son sens et que la libération est mise en œuvre par l'Esprit Saint qui travaille et œuvre dans tout ce que vous faites. Jésus nous montre le chemin. C'est celui qui montre tout ce que nous avons à vivre.

I would like to conclude with the reading we have just heard, from St. John. We have read a text where Jesus proclaims to the people: "I am the living Bread who came down from Heaven. And whoever eats of this bread will live forever." The Eucharist for us is at the heart of everything we do as Christians. It is at the summit of our payer life. Because we find in the Eucharist the greatest sign of charity. If you want to see what Christ has accomplished by offering his heart, his body as sacrifice for our sake, it is so that we may experience forgiveness of sins and his promise of eternal life. And this is why we come together for Mass at the celebration for the Eucharist. We partake in the Eucharist; we receive the Body of our Risen Lord so that it may transform us and that we may become the Body of Christ. May we receive the body of Christ and may we receive the graces we need to transform the world in which we live.

The foundation of your Fraternity grew gradually up to a point where, in the mid 1960s, it became a relevant reality for the people of the times in Italy, where your community first started. There was a revolution at that time as well. Something that really disturbed the people at their core. It was about freedom. It was about being able to express oneself and to be able to live one's faith. I don't know all the details of that particular revolution, but what we are going through in our own country requires the leaven in the bread to really go to work and transform our society into a Communion. And that is exactly what Fr Luigi discovered; that all of his efforts and all the education he provided was to provide people with solid foundations for a true transformation in the midst of different crises in the life of people, in the life of our Church, of the World. Communion – it's what he thought would be the key element in bringing people together. If there is a time when our country is divided, it is now. And it is now divided in very profound realities. But how do we unite and heal all of this? It is through Communion in Christ. It is the power of Christ through the Holy Spirit, living faithfully the Mission entrusted to us. Let us pray today as we pray for Fr Luigi for his eternal rest, that he may also intercede for us as we live what he saw as something we can do as Church for our World. Amen.