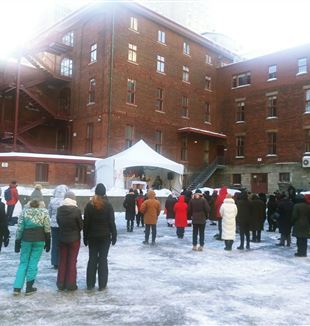 The Outdoor Mass: The Warmth of A Presence
Due to the Omicron wave, in December further restrictions were put in place and Churches had to close. Msgr Lepine decided to start celebrating mass outdoors. Despite the cold weather, the number of faithful attending this mass keeps growing.
It was no surprise for us when Quebec's Premier François Legault announced back in December that due to the coming tsunami of the Omicron wave, all churches and places of worship would shut down, as part of the many restrictions aimed to prevent more infections.

But unlike what happened during the previous lock downs, the surprise came from the Archbishop Msgr Christian Lépine. Not a complaint, but a bold gesture. So not only Masses would be broadcast as before on TV and YouTube (Salt and Light), but this time the Church would also offer Mass to the faithful in person, outdoors! He asked that a small altar would be set in the parking lot behind the Cathedral with a "tempo" type plastic covering. A rudimentary sound system with two mics was found, the cars were displaced and voilà! All priests serving at the archdiocese took rounds at celebrating daily Mass, and the people started coming. And since the beginning of January the number of faithful continues to grow every week, and so does the number of daily Masses.

The strangeness of this event is for sure amplified by the particularly harsh weather conditions this year, as we are facing one of the coldest months of January in recent memory. But such obstacles did not dampen the enthusiasm of the faithful, quite the contrary.

And the view of a crowd standing in prayer under a chilly wind reaching sometimes minus 25 or minus 30 degrees is truly stunning. Imagine limping elderly ladies walking on the icy parking lot with the help of their cane, families with young children following obediently in silence, some "new immigrants wearing light winter clothes… all of them praying as one. I look at them, and I look at the host elevated at the consecration by the freezing hands of the priest, and all kinds of doubt or lament vanish in me: Christ is here, I have nothing to fear. As I take communion before leaving this field of ice and snow, I cannot but admit the obvious: through limited persons for whom Christ is everything and who said "yes" to Him, He is finding a way to be present in the flesh, again, for me and for all.

As we walk to our cars, we look at one another, silently, filled with gratitude and joy for such an event. The troubles are still there, the pandemic is not over, but His presence clearly prevails.