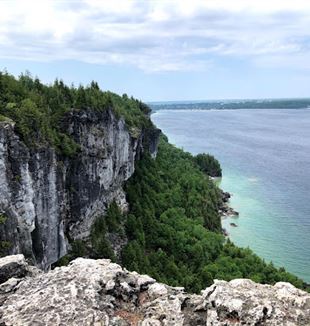 "Is it Worth it?": Reflections on summer
During a hike, a group of friends are challenged by a stranger who asks them whether the hike is worth it. This seemingly simple question generates a deeper conversation among them.
Six hours into a hike along the cliffs of the Bruce Peninsula, two friends and I bumped into a group of guys beginning the very trail we were about to complete. As we crossed paths, one of them stopped us and asked: "Is it worth it? Is it worth it to continue?" The question baffled us: who would drive all this way and only now ask if it was worth it? Without hesitating we told him "yes," laughed the question off, and continued on our way.



The question resurfaced days later, when one of those friends pointed out what I had failed to notice: "I realized that I am no different from those guys, because I have the same question. I desire to know if the way I spend my time is worth it. If it has any meaning." This friend's observation instantly took hold of me, realizing that I too share this question. In fact, far from always knowing if my time will be well spent, I have frequently taken steps in life before having clear reasons for doing so. More often than not, the first impulse is a simple attraction, a feeling of obligation, or simply a desire not to miss out. But sooner or later these instincts no longer suffice and, at a certain juncture, it becomes urgent to have adequate reasons in order to continue.

The initial question did not go away. Two weeks later a couple friends and I arrived at the summit of "The Crack," an 8-kilometre trek in Killarney Provincial Park that culminates in a treacherous rock climb. By the time we reached the top, our bodies were battered and our clothing soaked. When we turned to face the beautiful vista we had waited all day to see, we were met with a thick fog. As if on cue, a hiker at the summit turned to us and asked us if the day had been worth it---his face betrayed his disappointment. This time the question caused me to pause a little longer, and my mind instantly went to the day spent with my two friends. It was true that there had been no "reward" for our efforts, but the day lacked nothing. If anything, I could see that there was a unity among us that had not been there when the day started. I could not help but answer in the affirmative.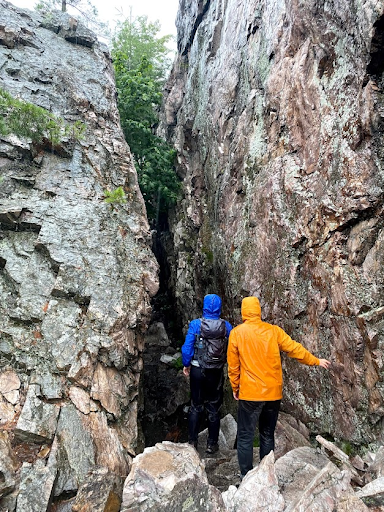 Three weeks later, some friends and I arrived at the doors of the Basilica of Sainte-Anne-de-Beaupré, having reached the end of a week of travels around Gaspesie Peninsula. During the homily, the priest celebrating the Mass posed a simple question: "What is faith?", to which he replied: "Faith is first and foremost a gift. If you have received it, the consequences of this gift are creativity and initiative. So if you took the initiative to come to this place, however you got here, it is surely because you have received this gift of faith." I left the Basilica marked by these words, remembering again those things that happened to me to bring me to that place.

With each encounter, I was continually surprised to find that every person I met (whether it be on a hike or on a pilgrimage) was, in one form or another, asking the same question. Each desires to know if the time and energy spent on a long journey is worth it. And in the absence of a satisfactory answer, when the sacrifice becomes too great or when reality fails to live up to our images, the consequences are disappointment and trepidation.

Prompted by these encounters, I found myself returning to the same questions: What has happened to bring me to a particular place? What is the value of making a sacrifice? Is it worth it to continue? But I also began to notice that the answers to these questions were to be found directly in my experience. Instead of asking these questions into the void, or delegating my response to another, I found that each moment of the summer became a small but concrete occasion to identify the ways in which Christ makes Himself present. In his book, Is There Hope?, Fr. Carron invites us to this very work of comparison:

"In order to reach certainty about the presence of Christ and to live as ours the hope this place communicates to us, we need to carry out a personal verification in which we examine more deeply the evidence of the beginning so it may become conviction. What we have encountered does not become ours through magic or sentimentalism, but through a trajectory of experience that confirms the initial intuition. As we have said, this is the dynamic that the apostles experienced. "And His disciples began to believe in Him."

This summer I discovered that it is only by continuing on the path that one discovers the reasons for walking first hidden from us, but which were present from the very beginning. I also saw that the path towards certainty is paved by these small pieces of "evidence"---the question of a stranger on a hike, the words of a homily, or a day spent with friends.

The summer ended, fittingly, on a mountain. As my friend and I approached one of the final summits, we encountered a group of locals who told us about a hike we should do the next day. They said emphatically: "It's worth it!" Is there a better reason for walking?