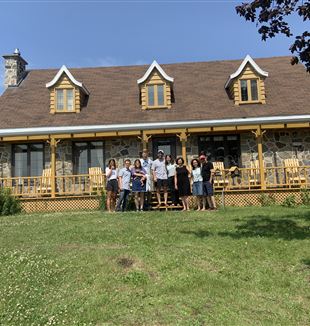 Something Exceptional
With the easing of Covid protocols in Quebec a group of friends decide to spend a vacation together, days are characterized by beautiful moments that remind them of their true need.
When the pandemic started last March, like many others, our School of Community group was forced to move our meetings to online. All of us were surprised that, despite the different format, our friendship was not only maintained throughout the lockdown, but actually deepened. Within the dramatic circumstances of Covid, we recognized that this companionship was essential for us, a place where we could look at our life with all of its challenges in a more true and helpful way.

The recognition of this surprising friendship coincided with the relaxing of Covid protocols in the province of Quebec. It was the intuition of Sarah that maybe our small group of School of Community could take a vacation together. She desired to live out this exceptional friendship we had experienced throughout the year in a concrete way, by living day-to-day life togher. When she shared her desire with us, many of us were interested right away and we went about planning our trip to the region of Charlevoix, east of Quebec City.

From the outset, we were filled with expectation: to finally "get out" after the lockdowns, to spend time in a beautiful place, to take a break from work, and to share life with friends. However, as the trip got closer, my husband and I started to feel doubts. Is it worth going on vacation if I have to work remotely while I'm there? If I have a young baby? If I'm not particularly "close" with anyone who is going?

We went into the last School of Community before the scheduled vacation with these questions in mind, still wondering if we'd actually end up going. While the meeting didn't eradicate these doubts completely, it reminded us of the reason we had wanted to go on the vacation in the first place: we sensed a promise that within this companionship life could be lived more beautifully. As Sarah put it on a phone call that night, "If we forget the reason we are friends, then the vacation is doomed from the start. We need to remember why we're together."

Nine of us spent a week together doing the things you would typically do on vacation - hiking, swimming, eating great food, and watching the hockey games of course. One night, we had a beautiful night of singing where many people played different instruments and contributed different types of music. Another night, our friend Isabel shared two short comedic pieces she had been working on in her theater class. There was no rigid program for each day, we weren't always doing planned activities, and yet, an attention to beauty was present in each simple gesture, whether it be the table settings or even the cocktails that were made after dinner. It was clear that this time together was something that each of us held precious.

For me, the vacation was a reminder that I genuinely need the company of these friends in order to be pointed back to reality. This was made particularly clear after a night of my infant daughter waking up each hour, which left me feeling exhausted, embarrassed and defeated. In fact, as my husband and I got ready to join the group downstairs for breakfast, I told him we should probably just drive back that day, cutting our trip short. Despite my husband's very logical rebuttals (everyone here agreed to go on vacation with a baby!) I was still convinced that I was a failure, and our time on vacation was wasted. Instead, it was Ellen's thoughtful gesture of preparing me a much needed cappuccino and her invitation to drive around the beautiful island we were staying on that finally shook me out of my head. While we were taking in the incredible green and rocky coastal views that day, it struck me that without Ellen's friendship that morning, I would have missed this.

At dinner on the final night, as we shared our experiences and thoughts, it was clear that for many of us, the week together was a deepening of the original intuition that led to the vacation in the first place: the exceptionality of this companionship. Sarah shared that after the week together, she identified with Fr. Carron's quote describing the fraternity, that "with these friends, I would go to the end of the earth." From this conversation stemmed a discussion on returning back to meeting in person, a discussion we are still having and working out, but always starting from the awareness of the essentiality of this companionship.

In Chapter 4 of the Spiritual Exercises, Fr. Carron speaks of the disciples growing in conviction , saying, "From sharing His life would emerge a confirmation of that exceptional, different quality that had struck them from the first moment. In sharing His life that confirmation grows." I know what Fr. Carron is talking about, because I saw that confirmation of something exceptional through spending that week with my friends. I only hope that this confirmation can continue to grow.