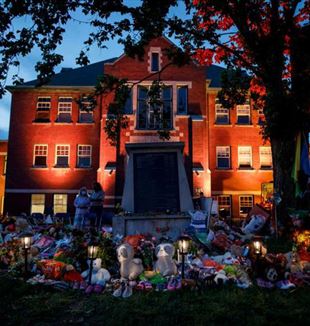 "Christ will show the way"
Following the recent discoveries of the unmarked graves at the Kamloops residential school site (BC) and at Marieval school (SK), we reached out to David Frank from Ahousaht Holistic centre(BC) to help us understand these difficult facts.
Can you please give us some context about your work with indigenous communities?

I work for the Ahousaht First nation through the Ahousaht Holistic Centre and coastal family services.
This translates into training people from early on in life to become medicine people, whether it's making traditional medicine or doing ceremonies or doing hands-on work with people that have been impacted by their health or impacted by a trauma.

And when you talk about trauma, are you working mainly with individuals that had to go to residential schools or are affected somehow by them as well?

Yes, that's true. We had two residential schools here. One was run by the Anglicans and one was run by the Catholic Church. When we talk about trauma, it's also suicide attempts, we have very many and we work to help with the impact of the news from Kamloops and events of that nature. We work with people of all ages, indigenous and non-indigenous as well. We work with anyone that asks for help.

We were all very shaken by the discovery of the unnamed graves in Kamloops and it's sad to hear that but people knew that this existed. What did you hear from the indigenous people that you work and interact with? How did they feel and what did you think?

The people that have contacted us have been really re-traumatized again although they knew about it. The way it came out in the news media in this way just re-traumatized them. There is a lot of anger, and there's a lot of sadness. And the thought of getting back to where they were is difficult for survivors, the people we mainly work with.
So as the survivor, you're still in your trauma a little bit. Hopefully soon we want these people to be able to get out of the survival mode and begin to work towards thriving in society. So when they look at something like Kamloops, it will no longer be traumatizing, but a place where they can get strength from the things that they lived through and maybe become a stronger person and be able to stand up in this society. This is what I want our people to do.
As for myself, I knew about those events, not necessarily at Kamloops, but here in Ahousaht, Residential Schools here as well had deaths, like my older brother said that he witnessed a young boy being thrown down the stairs. Some have witnessed that, I personally didn't witness anything like that, but I had my own story too.

Did you go to a residential school? Can I ask what the experience was like for you?

Yes. I went to Christian School and to Mission City and also had to be in an Indian Hospital.
I've worked on myself for a long time. I was an alcoholic and did drugs. I attempted suicide three times, but I've worked through the sexual abuse that I went through in residential school and even in the Indian hospital. I was there at a young age. It was really tough for me; I was put in a little room with one light in the ceiling and I was tied down in the bed. I am not sure why, maybe because I was crying too much. I'm just trying to justify it for them, but I don't know [why]. I don't know how long I was there, but I know it was a long time because I counted many breakfasts and many dinners. When I got out, they put me in general work and they would still tie me down at times.
And then residential school was difficult. It was lonely times, hungry times, we had very little to eat. Sexual abuse happened there and not only on myself, but I witnessed it happen to another child. Also, we worked two days a week in manual labor, in teams of three. I witnessed the senior boys torturing a young fair boy that was in my team. They did things to him that traumatized me too.
Like I said, I attempted suicide three times, the last time I attempted suicide, I put out a challenge to God and I said to Him: "I don't really think you exist if you allowed all of that to happen." I said, "Show me that you exist." I had a rifle; I was going to shoot myself. Then there was an insistent knock on the door. I finally put the rifle down, and I went to answer the door. It was a priest. I'm crying now out of thankfulness for him.
He came and he said: "I had the urge to come and see you. I don't know why". He was on his way to town because there was going to be an Indian Games Track and Field meet. He had the urge to see me, so we sat and talked. I told him my story.
Well, he knew my family a little bit and he said to me: "You need to get back into your tradition right now, so that you can get back on your feet. I'll come with you and help if you want me to." So, we did that and he became my friend, and I really love him. God must have a great sense of humor to send a priest to rescue me. I'm thankful for it.

Thank you for the willingness to share that with us.

Like I said, I'm past surviving, I'm thriving in this community, so I can reach into those places and not feel trapped.


So as people, and especially as Catholics that are listening to your story, what do you think are the facts we need to be looking at and trying to understand?

I'm a Catholic too. I can only talk about my experience right now. With my priest friend we had many conversations and I told him once, "You know? I would really like an apology, or the Church to apologize to me." That was prior to all the court cases. So this priest asked his superiors. He came back again and said, "No, they won't do that. They're afraid of litigation against them." I said, "I don't know what to do, because I need it." All I wanted was an apology. I did not want money–that would make me feel like a prostitute.
Then a new Bishop came and in his first year he was asking me the same things you are asking. And I told him the same story. He sat back and listened, then he said, "I'm going to apologize to you for the Church." He apologized for all the things that happened to me, everything I went through. He apologized. That meant so much to me, that I was believed. The money part of it felt as if someone was saying: we'll give you the money, but we still don't believe you. When [instead] this happened, it meant so much because it set me free. That's all I wanted, that's what many of us want. That's it.
Sometime I feel like the leaders of the Church, not the congregation, they behave like the story of the Good Samaritan, where they see the First Nation Indians laying on the side of the road and prefer to cross to the other side of the road and cover their face to avoid seeing. "I didn't see that. I don't see it. I don't believe it." All we want them to do is to pick us up and say, "We're sorry all this happened. We're sorry about that."
And I say to myself: you know what? What would Christ say? "Oh ye of little faith." Money is not what is most needed; instead [what is needed is] an apology without fear but real compassion. Simply apologizing for the wrong that was done. And that's faith. That's faith in God. I don't see that right now.

So you are saying if we had a stronger faith, we would be less afraid to look into the wounds and the mistakes of the past?

Yes, yes. And if you have faith, you will be looked after.
I want to tell you this: when I was in the Indian hospital. I was eight years old. They put me in a room and I just laid there and cried and cried and a voice told me: "Do not be afraid my son, I will be with you. I will be with you, my son."
I heard that phrase many years later again from a young, evangelist preacher that came to our town. It hit me again: "I've always been there." I cried because I had forgotten, because of my lack of faith. I had forgotten that I had heard that voice.

When you talked about the apology, I understand from you that this could help indigenous victims to be free and heal. Sometimes we feel, though, that the media can be pushing for a quick fix, or a shallow, quick apology. Instead, it seems like what is needed is also an apology with an awareness of the wound and of the facts, an apology that comes from somewhere deep, where we've actually looked at things and delved into the details.

Yes, that's what is needed. I don't think forced apologies are what we need right now, for me anyway, but for some others it might be something that'll work for them. I don't want Pope Francis to be manipulated into apologizing. He is a leader, he needs to come forward, have faith in Christ and God and take ownership for what happened.

Your story, your personal story gives one hope in a way, because it's incredible that you went through everything you did, and you not only have faith, but you are a Catholic believer. How were you able to reconcile the pain that you went through in residential schools with your faith?

I did have a hate for the Catholic Church. I had a hate for priests and nuns and for the Catholic Church. I had a hate for them. And I hated white people. It wasn't until that priest came and knocked on my door that I realized that it wasn't the whole Catholic Church, the congregation, all the priests and nuns that were lining up to sexually abuse me. It wasn't. [It was] just one man, one priest.
So I found that it was a sort of avoidance for me. It was easier for me to do that, to blame everybody. No, I can't be judging them and calling them bad anymore because of the way I was brought up by my mom and dad who taught me about humility.
I can't be judging the whole Church because a handful of people belittled us and abused us. It was an avoidance of saying the name of the people that wronged me. Putting names and faces on things, was a hard work for me to do. When I started doing that I needed to go to counselling. I realized there is more to freedom than just forgiving. The way I was did not give me a license to hate people
When I was a child, I had a tradition of going with my parents to the river in the early mornings before daybreak. We did some prayers in the water in summertime. My father would wake me up early and say, "We're going now." I needed to get up and get ready as soon as he walked out the door. And then my mom would take her rosary and start saying [it] on the road, right all the way to the river or pool. But on our way, there were no lights or anything. I would say to my father, "how are we going to see," because he didn't have a flashlight. And he would say to me, "Have faith son, have faith." We would get to the pool, put away the rosary and start our traditional rituals in the water.
When I was in high school, I used to come back home from school for Christmas. And I still did that, to go out in the early morning to the pool. It was still dark, and when I would come back home, my father would have food on the table–porridge, toast and coffee. "Here you go Son, how was it?" I said, "It was good, really good. It's better than going to the church and kneeling down and praying." My father was silent. I knew I had said something wrong. He put the food away and said, "I need you to go back into the water: humble yourself." I said, "I did." And he replied, "No you didn't, you are already putting down how other people pray; we don't do that. You need to humble yourself; you are talking about how your mother and I pray in church as if you are bigger than us. You're not; we're not bigger than you either. You go back." That taught me humility. One way is not better than the other and now I live both traditions. I go to church, and I also participate in traditional ceremonies.

We all yearn for healing and for reconciliation, what would you like to see happening now, also with Catholic lay people?

I would like to see the church become Christlike again and to have faith.
You know the story of the Antichrist coming. The Antichrist has come a while back. The Antichrist has sexually abused children and taken away things from us.
It's going to be a while for us to get better for our people. But a heartfelt apology is always a good beginning, and Christ will show the way.
I would like to hear more of the people in the congregation stepping up and saying, "Let's help ease it for you. How can we help to ease it for you?" Your actions speak, and prayers do as well.